The KGB Remote Administrator Tool (RAT) is a powerful and advanced hacking tool that has been used by hacker. It is designed to give the attacker complete control over a victim's computer, allowing them to access files, install software, and even spy on the victim's activities.
The KGB RAT is a type of Trojan horse malware that is often spread through phishing emails, malicious websites, or even infected software downloads. Once installed on a victim's computer, the RAT remains hidden and can be remotely controlled by the attacker from anywhere in the world.
One of the most concerning features of the KGB RAT is its ability to capture and transmit keystrokes, allowing attackers to steal login credentials and other sensitive information. This means that if you have the KGB RAT on your computer, cybercriminals could potentially gain access to your online banking or social media accounts, and even steal your identity.
In addition to stealing information, the KGB RAT also allows attackers to execute a wide range of malicious activities. For example, attackers can use the RAT to download additional malware onto the victim's computer, launch DDoS attacks against other websites, or even use the victim's computer as a part of a botnet to carry out larger-scale attacks.
The KGB RAT is just one example of the many advanced hacking tools that are available to cybercriminals today. As technology continues to evolve, so do the tools and techniques used by hackers, making it more important than ever to take steps to protect your personal and business data.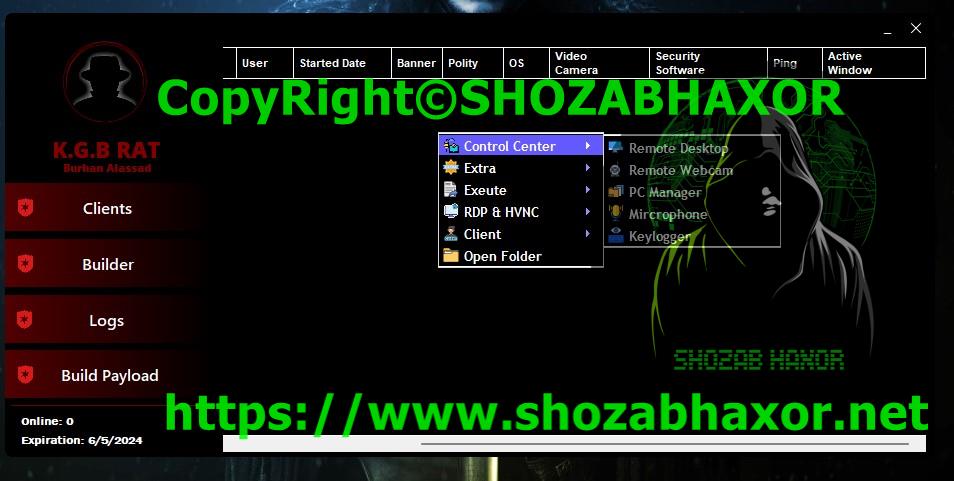 To protect yourself from the KGB RAT and other types of malware, it is important to keep your antivirus software up to date and to be cautious when opening emails or downloading software from unfamiliar sources. It is also a good idea to use strong, unique passwords for all of your online accounts and to enable two-factor authentication wherever possible.
In conclusion, the KGB Remote Administrator Tool is a highly advanced hacking tool that can cause serious harm to victims. While it is difficult to protect against all types of malware, taking basic security precautions can go a long way in preventing these types of attacks. Stay informed and stay safe online.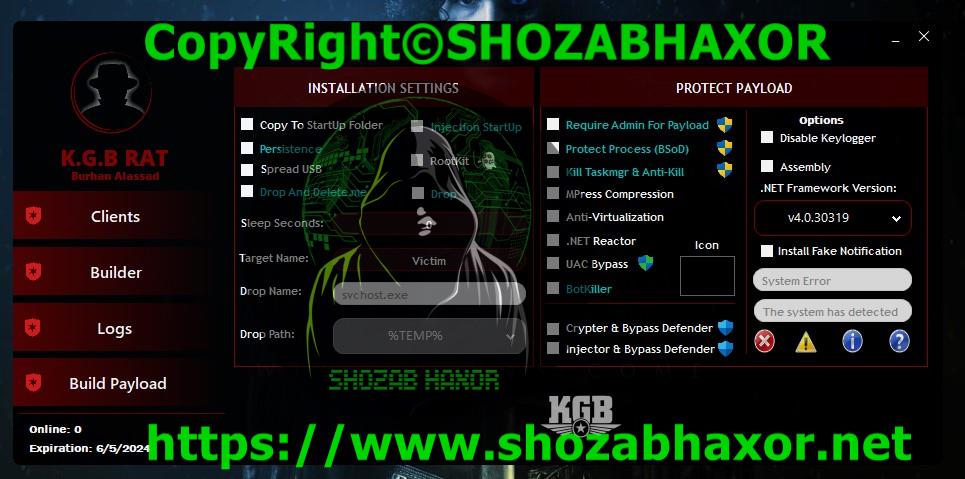 Although I must emphasize that the use of Remote Access Trojans is not condoned, it is undeniable that the K.G.B RAT tool boasts a plethora of impressive features that certainly grab attention. This premium software, developed by the skilled Shozab Haxor, offers a level of sophistication rarely seen in RATs.
The K.G.B RAT tool includes a rootkit feature that enables the creation of a stealthy, undetectable payload, making it nearly impossible for even the most advanced anti-malware programs to detect. Additionally, it features a Hidden RDP and Hidden VNC Viewer, granting a remote user unprecedented access to a targeted system.
One cannot help but wonder what new and exciting features the K.G.B RAT tool will offer in its next update, as the developer has already demonstrated an unparalleled level of innovation and expertise in this realm. However, I must reiterate that it is important to use technology ethically and responsibly, and avoid any illegal or harmful activities.
NO NEED PORTFORWDING NO NEED VPN NO NEED NOIP DUCKDNS OR ANY OTHER DNS NO NEED HOSTING COMPLETELY NEW WAY…. THIS RAT HAS ALL THE BASIS FEATURES AND MORE FEATURES ARE COMING IN UPCOMING UPDATES INSHA ALLAH  THE MAIN FEATURE IT GENERATE VIRUS WITH OR WITHOUT BYPASS.. EVERYTIME IT GIVES UNIQUE FILE USING USG(UNIQUE STUB GENERATOR) AI ENCRYPTIONS…!!
Here Is The Full Demonstration Video About OUR Product The KGB RAT (REMOTE ADMINISTRATION TOOL)
Thanks for reading
Telegram @shozabraza